Job description

Do you want to participate in software development for the financial sector? A stable partner for B2B companies is looking for a Java Developer. The offer is also for juniors

Salary: 2 000 € brutto / month
Type of employment: TPP/ IČO

Location: Bratislava
Date of start: ASAP
Duration: 12 months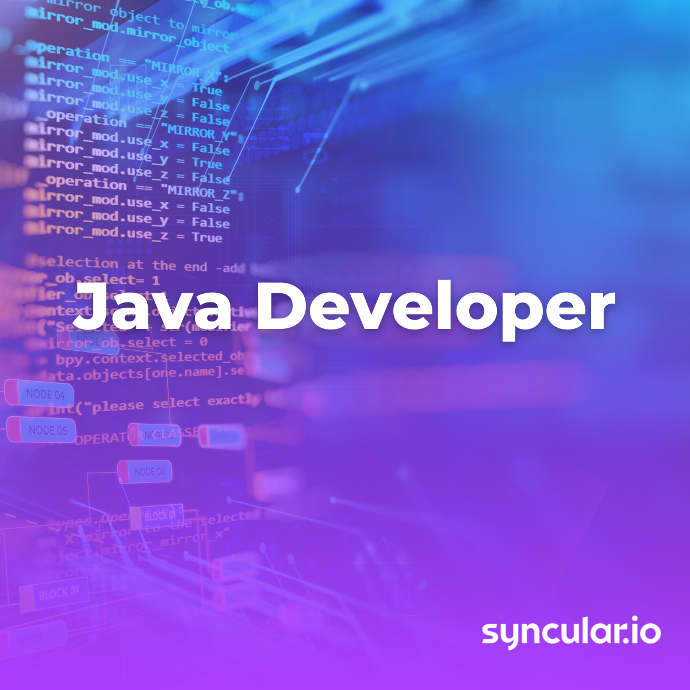 Your tasks as Java developer:
They are looking for a skilled programmer to strengthen the team of mostly senior programmers

Being engaged in the development of web applications and applications in java swing primarily for the financial sector.

If the candidate enjoys programming, is looking for a job in a pleasant team with an informal atmosphere, he is in the right place.

The possibility of full remote depends on seniority

Project description:
The company is an ambitious supplier of software solutions that has been providing products and services since 2000.

The mission is to create modern and sophisticated software for B2B clients in cutting-edge technologies, according to international standards of target client segments. Priority is given to comprehensive, professional, competitive solutions as well as flexible responses to the requirements of our customers.

Their products and services are used by companies that provide above-standard services in the investment banking and leasing business. FINAMIS strengthens its reputation as a reliable FinTech supplier mainly thanks to excellent knowledge of customer needs and delivery of projects at the agreed time and budget.

The vision that moves towards long-term and stable business relationships is to strengthen the partnership type of cooperation with clients.

Benefits:
Stability in an established society

Motivating financial rewards

Flexible working hours

Work-from-home option

2 "sick days" in 6 months

Excellent working climate, refreshments

Multisport card

Multisport card

Can be used for all types of sports and other activities 

Sick day

Possibility to have 2 sick days per 6 months
Home-office

Possibility of hybrid form of work
Time management

Flexible working hours 
Requirements:

Experience with JAVA is welcome and preferred, but not a necessary condition

Knowing JEE is an advantage

Knowledge of SWING, React and JavaScript is also an advantage

Apply now

Let us know if you have an interest

Attach your CV

Fill out the application form and don't forget a short description of why you are interested
We will contact you
After receiving your message, one of our recruiters will contact you
About Synculario

We are a boutique recruitment agency . Our mission is to build a close-knit community of highly skilled, reputable IT specialists and connect them with companies in dire need of their expertise. We prefer quality over quantity, valuing strong and long-lasting relationships above all else. The absolute satisfaction of all parties involved is our top priority.

Therefore, close cooperation with our IT Experts is a crucial point for us. We want to assist you in methodically developing your skills and expertise, as well as support your commitment and education in new, exciting environments. Good connections, trust, personal growth and mutual support are all very valuable factors for us .