Synculario is a company of young, talented people who love their job! We are constantly growing and looking for new talents - that's why we started an internship program last year. Our main goal is to provide relevant opportunities and experience to students both loc
al and international in the rapidly growing IT industry, with the possibility of a remote job offer after the internship. We have several internship positions in different departments of our company, including Sales, Marketing and Human Resources divisions. Even though it's always nice to have relevant experience, it is not obligatory for our interns, because we believe that the desire to learn, grow and develop is the most important factor for success.
Stefan is a former intern and current employee whose path is a good example of a success story that began from an internship. Stefan currently studies at the University College Lillebælt in Denmark. He initially joined Synculario for a 4-months internship, and at the end received a job offer. Now, he is the youngest member of our Sales Team, and an inspiration to all other interns. We asked him about his internship, impressions of the firm, and future plans.
How was your internship experience with us?
- "It was tricky for me because initially, I applied for Social Media Marketing, but then I got an opportunity from Martin (Managing Director of Synculario) for Sales. I decided to try it because my overall goal was to enter the business world and to use my knowledge I gained in the college, and most of all, I came here to learn."
Why have you chosen Synculario?
- "I contacted many companies, and I had many opportunities, but I accepted this one. People from this company were quick to reply back to me, and honest; they didn't try to act as if they were a "big boss" who couldn't be bothered communicating with an intern. The communication wasn't super formal, which is very important for me. I can speak with anyone at any level; even Martin is easily accessible via WhatsApp. I don't like to be too formal all the time. My superiors left a good impression on me via their ways of communication. I talked to Bianka (Internship Project Manager) many times, and she's a funny and approachable person and a great boss. I like the company culture; it fits me."
How did you hear about Synculario?
- "It was on the job portal of UCL University College Lillebælt, where I study."
Does your position correspond with your studies?
- "Yes, I study Service economy, which is more about B2C, instead of B2B, but it also involves sales. I definitely want to continue with sales and marketing in my future."
Did you have your internship remote or on-site?
- "I had my internship for 4 months on-site in Bratislava. I decided to go even though it was during pandemic, in one of its worst phases."
Tell us about your work tasks.
- "I started as a recruiter for the first 3 weeks, which helped me to understand the service Synculario provides and the business processes. And since the Sales department was just started, there weren't any processes set up yet, so it was 3 weeks training for me, and for them to establish and give tasks to me. So, after 3 weeks I was in Sales helping them to generate leads. They took me to meetings to show me how everything worked, so I could familiarize myself with the basics of sales which I didn't know because I haven't had any experience in sales before. I learned quite a lot! I could do some extracurricular activities when I wanted, so I could choose little projects and work on them. Since I wanted to be challenged, I had quite a lot of work every day. My internship went by really fast actually - I had a lot to do, but I had fun."
What was the most challenging thing about your internship?
- "I think the whole experience was challenging. I've never done any of these things before. For example, I wanted to do something regarding marketing, so I got the chance to take part in creating of webinar and it was quite difficult to do and time-consuming."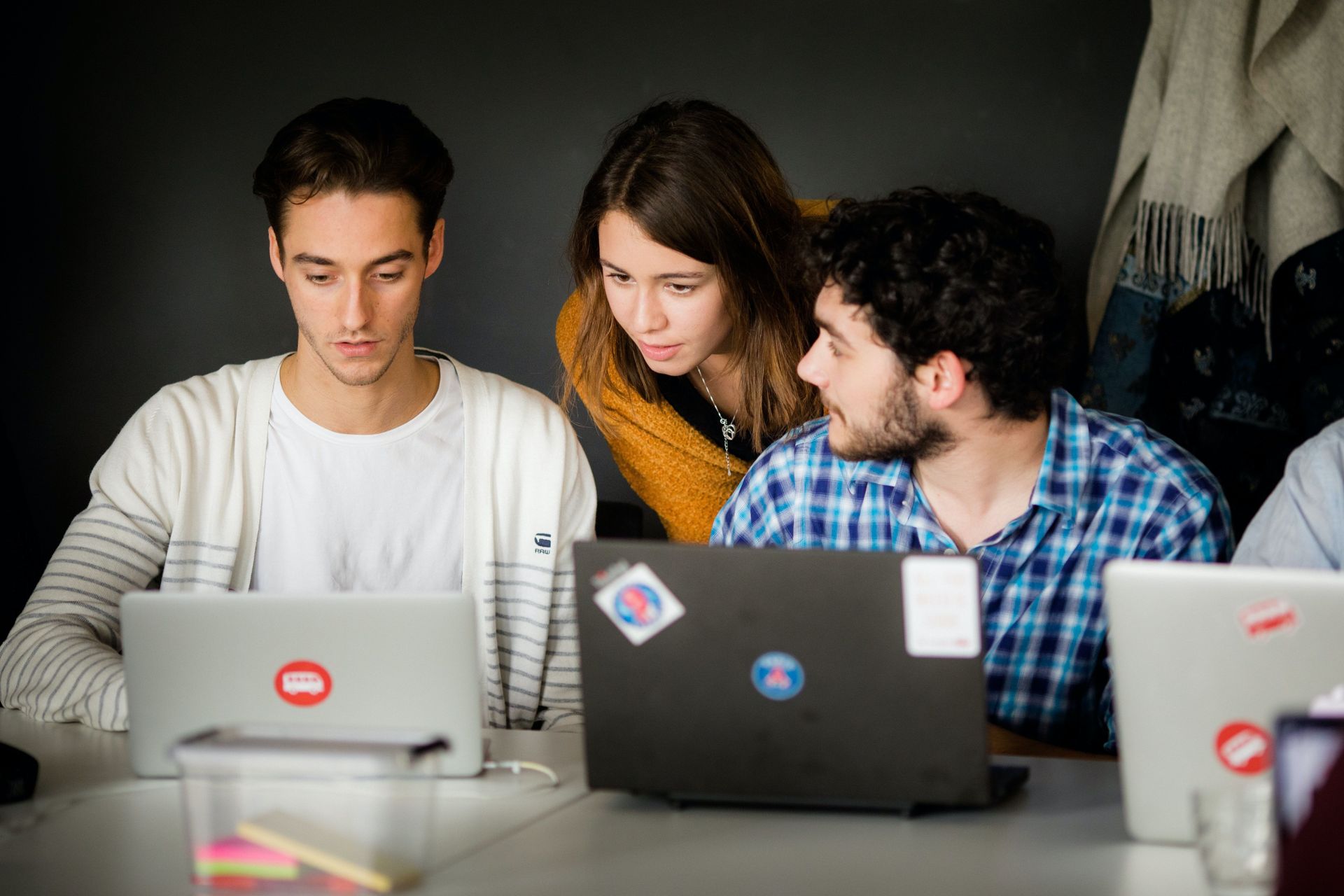 Did you expect that Synculario would offer you a job?
- "No, it was a pleasant surprise! Of course, it was mentioned in the description of the traineeship, that you could get a remote job after an internship, but I didn't expect it at all!"
Did you want to work in IT, or did it happen by chance?
- "No, I didn't particularly set out to work in IT. I mean, I like computers, hardware, and games, but I was not only focused on the IT industry when it came to looking for job opportunities."
Why should students apply for an internship in Synculario?
- "First of all, because it is a new experience. Bratislava is a very well developed city, and I am sure that experience now without Corona will be much better. My colleagues at Synculario are very friendly and helpful. You can learn a lot here! If you are interested in something, just go for it, no one holds you back from exploring something you're passionate about. You always get support; and you can always get challenges if you want them. If you want to work under pressure, you can work under pressure; if you need a slower pace, you can get a slower pace; it all depends on you and what you are looking to achieve.

Moreover, you can find lots of new friends here! People at Synculario are very friendly, they like parties and spending time together outside the office."
Is it difficult to work in the Sales department?
- "I am glad to work in Sales because the IT business is quite straightforward. Y ou can manage the communication in the way you want, because at the end of the day you need to talk to a customer at some point anyway. Sales positions are well-paid, and the position is in high demand as well. Moreover, Sales are connected with Marketing, so you can do both things at the same time if you want."
What are your plans for the future?
- "Of course, I am still learning. For me now, it is important to learn how everything works, so I can work independently. When the company expands, I would like to get a managerial position. And I still need to finish my Bachelor's in International Sales and Marketing, and then I will probably go on to study for my Master's, but I am not sure. My experience with Synculario has absolutely helped me to learn concepts faster and to apply the knowledge directly at the company."
Do you have any advice for future interns?
- "Work hard, show what you are best at, and you'll have a chance to get a job when your internship is over."
If you want to dive into the startup culture, gain new practical skills, meet like-minded people, and have an unforgettable experience, apply for our internship programs!